Looking for expert advice navigating
health insurance options in Idaho?
Call our health insurance specialists
(208) 523-3924
IdahoInsurancePlans.com is an independent insurance agency in Idaho specializing in health insurance and everything related to it from individual health insurance plans for families and the self employed to group health, life insurance, Medicare plans, and dental insurance. Please view the links at the left to get more information on the specific kinds of insurance we provide.
Don't need or want the health insurance tax credit? Then you can avoid dealing with the Idaho health insurance exchange. Here are the links to apply directly for individual health insurance plans in Idaho with some of the most competitive Idaho health insurance companies: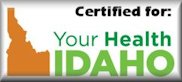 We provide insurance services to the entire state of Idaho, including:
Boise Health Insurance – Boise Dental Insurance – Boise Medicare Blue Plans
Idaho Falls Health Insurance – Idaho Falls Dental Insurance –
Meridian Health Insurance – Meridian Dental Insurance – Meridian Medicare
Pocatello Health Insurance – Pocatello Dental Insurance
Lewiston Health Insurance – Lewiston Dental Insurance
Rexburg Health Insurance – Rexburg Dental Insurance  – Rexburg Medicare
Blackfoot Health Insurance – Blackfoot Dental Insurance
Twin Falls Health Insurance – Twin Falls Dental Insurance
Caldwell Health Insurance – Caldwell Dental Insurance – Caldwell Medicare
Nampa Health Insurance – Nampa Dental Insurance – Nampa Medicare Plans
Coeur d'Alene Health Insurance – Coeur d'Alene Dental Insurance
Moscow Health Insurance – Moscow Dental Insurance – Moscow Medicare
Post Falls Health Insurance – Post Falls – Dental Insurance
Eagle Health Insurance – Eagle Dental Insurance – Eagle Medicare Plans
Mountain Home Health Insurance – Mountain Home Dental Insurance
Garden City Health Insurance – Garden City Dental Insurance